Three Women. One War. And a Ton of TNT.
Meet Agnes, Anne & Betty, a motley crew of munitions workers doing their bit for the war effort. Factory life seems perfect until an air raid sends them on an explosive journey through euphoric emancipation, forbidden friendships and anarchic dreams.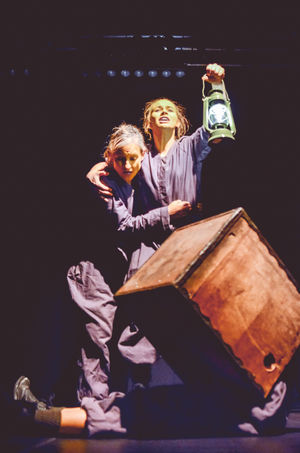 The show was inspired by the stories of 'The Canary Girls' which was a group of women during World War I that worked with toxic chemicals, filling shell cases with TNT, which stained their skin yellow. Through historical research, the company discovered more about the fascinating lives of women who went to work in munitions factories. By 1916, hundreds of thousands of women had been recruited into the war effort, creating a social revolution!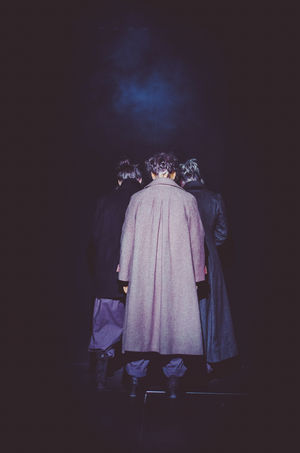 Fun in The Oven met in 2013 in Newcastle-upon-Tyne at Circus Central, through a shared love of clown, physical theatre, music and play. They've developed street theatre acts and participated in mentoring programmes which helped them create a shared physical language and highlighted common aims and aspirations. In 2014, they collaborated on a project called 'Women's Voices,' working with survivors of domestic abuse in County Durham.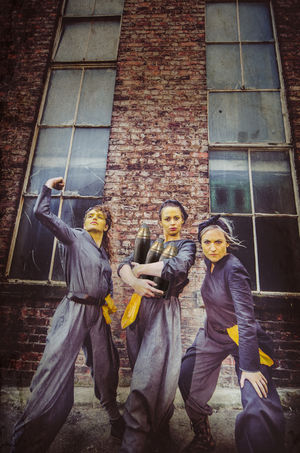 The desire to create their own show and work collaboratively and internationally led Fun in the Oven to get funding for the first research and development for 'Canary' in 2015. The show took four years, working with 25 creatives over four research and development periods to create.
"Canary is a hilariously emotive and unique show, embodying all the fun of clowning mixed with a history lesson, a drizzle of drama with a sprinkle of feminism." Dance Culture North East
"Canary sheds light on some first world war munitions workers, many of whom have been overlooked or deliberately airbrushed. This is a show that pulls no punches yet is witty, warm and topical. How Fun in the Oven can inject humour into such a dark topic is a revelation."Audience member at Interplay, Leeds
Show Dates and Times:
28.05. 18:30 – 19:30
29.05. 18:30 – 19:30
30.05. 21:30 – 22:30
31.05. 21:30 – 22:30
01.06. 21:30 – 22:30
Venue: Divadlo Inspirace